Video costum in lingua italiana. Prima parte: sei a casa appena sveglia e ti stai vestendo. Oggi indosserai uno dei tuoi diaper più grossi e ci cagherai e piscerai dentro fino a riempirlo di merda e piscio. Lo voglio vedere veramente colmo. Poi indosserai dei leggings aderenti, un maglione ed uscirai di casa diretta ad un negozio di abbigliamento. Seconda parte: al negozio di abbigliamento girerai un pochettino sempre parlando di come ti senti con il pannolone sporco addosso. Cercherai una commessa perchè voglio che le dici che vuoi un paio di pantaloni da provare. Alla commessa dirai anche che indossi un pannolone e che è pieno di merda. Voglio sentire i dialoghi. In camerino ti cambi, ti spogli mi mostri il tuo pannolone sporco e ti fai vedere nuovamente dalla commessa. Terza parte: a casa di nuovo ti spogli e mi fai vedere bene quanto quel pannolone è sporco. Più merda c'è meglio è! Mi dici che mi manderai questo pannolone e che dovrò indossarlo e fare la stessa cosa che hai fatto tu ma con la tua merda! Dici di riuscire a fare un video così estremo ed imbarazzante? – – – Video costum in Italian. First part: you're home as soon as you wake up and you're getting dressed. Today you will wear one of your biggest diapers and you will shit and piss in it to fill it with shit and piss. I want to see it really full. Then you will wear tight leggings, a sweater and leave home and you go in a clothing store. Second part: at the clothing store you will turn a little bit always talking about how you feel with the dirty diaper on you. You will look for a assistance job because you want to tell her you want a pair of pants to try. You will also say to the clerk that you are wearing a diaper and that it is full of shit. I want to hear the dialogues. In the dressing room you change, you strip you show me your dirty diaper. Third part: at home again you undress and you show me well how dirty that diaper is. More shit is better! You tell me you will send me this diaper and that I will have to wear it and do the same thing you did but with your shit! Do you say you can make such an extreme and embarrassing video?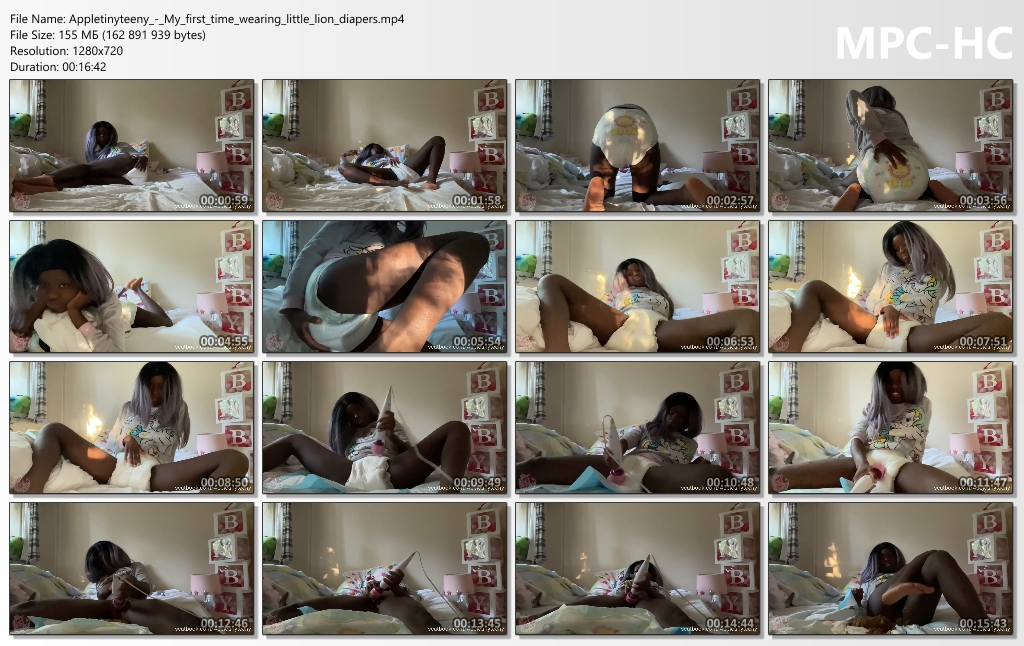 Appletinyteeny – My first time wearing little lion diapers
The post Appletinyteeny – My first time wearing little lion diapers ? ($10.99 ScatShop) first appeared on Extreme Scat Porn Site #1.